Pets and Halloween – How to Play it Safe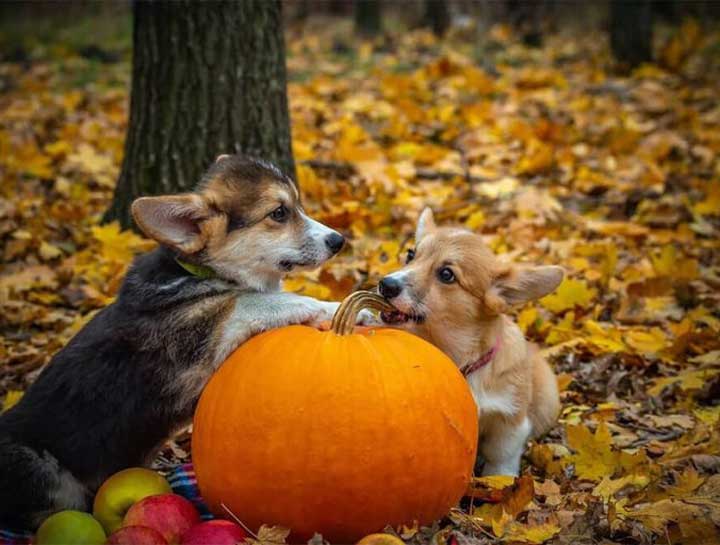 October 24, 2022
Halloween can be frightening and dangerous for pets. Stranger danger, hazardous candy, decoration perils, and more can threaten to send your pet to the vet. Even worse, they can cause pets to go missing. Here are some tips and information on how to help keep your pet safe and avoid a scary vet bill.
Dreadful decorations
Displaying decorations such as pumpkins, jack-o-lanterns, and corn cobs may seem natural and safe, but they can lead to gastrointestinal upset if ingested. Cords and wires from lights or other decorations can cause burns or electrocution if chewed through, so keep them out of your pet's reach. Curious whiskers and wagging tails can be dangerous around flames, so keep all candles out of areas where your pet can access them; consider battery-operated flameless candles when these decorations are in use around pets.
Another risk is gastrointestinal blockages from small decorations or toys such as small plastic spiders and bat rings. These can be irresistible to chew and ultimately swallow, but they are not easily passed through the digestive system. It's important to keep these items out of paw's reach. Even natural decorations can cause an upset tummy—or worse—if ingested.
Flickering flames can be irresistible to curious cats, and happy, wagging tails can spell disaster when they get too close to candles. Opt for battery operated flameless candles for areas of the home that pets have access to.
Costumes can be Terrifying
Remember that our pets may not understand how and why we are suddenly unrecognizable if we are in costume. Many dogs have even mistaken their owners for intruders when they've met them as masked figure. Never force your pet to be held or otherwise engage with you if they are frightened or distressed.
If your pet tolerates being dressed up and you plan on having them wear a costume, make sure you consider the outfit's safety. Some costumes have hats or collars that go around the neck which could become dangerous. Make sure that the costume doesn't inhibit breathing, eyesight, or movement.
Additionally, some pets will not share your enthusiasm about getting dressed up, and they may chew the costume, causing it to become a choking hazard. It's always a good idea to keep your pet under close supervision while in costume. If your pet starts to pant, it could be because they are becoming overheated or anxious inside the costume.
Lastly, if you're planning on entering your pet in a costume contest, make sure they are up to date on vaccines. That way, you just come home with photos and maybe even a prize, and not with kennel cough or parvovirus.
If your pet is agreeable to wearing a costume, make sure it fits well and doesn't have any parts that could become a choking hazard. Remove the costume immediately if your pet shows signs of distress or over-heating.
When Trick-or-Treaters Cause Alarm
Many pets react when the doorbell rings or there's a knock at the door. It could illicit them to run and hide because they don't like strangers, to happily want to greet whoever is on the other side of the door, or to go on high alert, feeling like they need to protect the family. When the ringing or knocking continues repeatedly for hours, our poor pets can suffer from extreme anxiety. The stress of all the activity can cause dogs to bolt out the door. Shelters do report a higher influx of lost pets the days after Halloween.
Even a normally friendly dog can show signs of aggression when they are frightened. If possible, keep pets in a separate room or crate when trick-or-treaters are active.
It's important to keep our pets safe and as stress-free as possible. Keep your dog on a leash. Or better yet, keep pets in a separate room or their crate during peak trick-or-treating hours. This will lower their anxiety and help keep them from running out the door. If possible, have your outdoor cat come inside on Halloween night. Even outdoor cats have been known to run when spooked, and then kitty could be blocks away in an unfamiliar neighborhood before it stops or runs into the street. If your pet suffers from anxiety, there are medications available that can help. Ask us what our veterinarians can prescribe.
Pets may cower and hide, and even try to bolt out the door when they feel frightened. Many shelters report a higher intake of lost pets in the days following Halloween.
Positively Petrifying Treats
Don't share candy with pets, either intentionally or by accident. Chocolate, candies, and baked goods containing Xylitol are toxic. Chocolate contains theobromine and caffeine which are not safe for dogs. Vomiting, diarrhea, excessive thirst or urination, increased heart rate, restlessness, muscle twitching or tremors, seizures, or cardiac arrest are all signs that your dog may have consumed chocolate.
Dark chocolate is the most dangerous type of chocolate, but if your dog has eaten any amount of chocolate, let your veterinarian know immediately. Because of the popularity of keto and other low-carb diets, many chocolates and other candies now contain at least some artificial sweeteners. Most of these sweeteners are toxic, but Xylitol is the worst offender. Hundreds of dogs get sick or die each year from accidental Xylitol consumption.
Even after the candy is gone, the danger remains in the candy wrappers that can cause choking or intestinal obstructions. Keep all candy and baked goods out of your pet's reach.
Baked goods can also contain chocolate and artificial sweeteners, so it may seem like a harmless treat to share your pumpkin cookie, but it's best to stick to treats made especially for pets.
Troubling Facts about Black Cats
Because of long-held superstitions regarding bad luck and the association with witchcraft, our black cats are at higher risk of becoming victims of abuse and violent pranks this time of year. So much so, that many shelters will not even allow black cats to be adopted in the weeks leading up to Halloween, lest they fall into the wrong hands.
If you have a black cat that is usually allowed outside, consider keeping them inside in the days leading up to Halloween. This suggestion could go for a cat of any color, as the neighborhood will be busier than usual with trick-or-treaters dressed in outfits that can scare pets.
Black cats are at a higher risk of becoming victims of abuse during Halloween. Consider bringing your outdoor kitty indoors in the days leading up to Halloween.
We hope this blog will help you be well-equipped to keep your pet safe during Halloween, even when things get scary.
Northeast Animal Hospital and Downtown St. Pete Vet Clinic are sister practices located in sunny St. Petersburg, Florida. We are devoted to helping pet owners connect with their pets while educating them on topics that will help keep their pets happy and healthy. If you are local to St. Pete and its surrounding areas and have any questions, please don't hesitate to contact us. If you've found us through a web search, we hope we've helped answer your question on this subject. If you reside beyond the Tampa Bay area we recommend you contact your local veterinarian for any further needed assistance.