Northeast Location Information
This facility has an accessible entrance and restroom.
Northeast Animal Hospital is located in the beautiful Historic Old Northeast neighborhood of St. Petersburg, near Historic Uptown and Snell Isle. It is one block east of Crescent Lake Park, and four blocks south of Sunken Gardens. Enjoy brunch at First Watch cafe, lunch at Burger Monger, or a treat at Smoothie King—all just a skip across 14th Avenue.
From Interstate 275, take Exit 24 and travel east on 22nd Avenue North, then proceed south on 4th Street North. Our hospital is on the corner of 14th Avenue North.
What We Believe and Do
At Northeast Animal Hospital, we believe that your pet is a part of the family, both yours and ours. That is why our mission is to provide comprehensive and compassionate veterinary care that expresses our devotion to you and your furriest family member.
Since 1973, the veterinarians and team members at Northeast Animal Hospital have sought to achieve the highest standards of veterinary medicine. Northeast Animal Hospital is a full service veterinary hospital. We bring together the staff, equipment, and expertise to care for just about any health care concern that may arise. We also have the ability to provide hospitalization and critical care management when needed.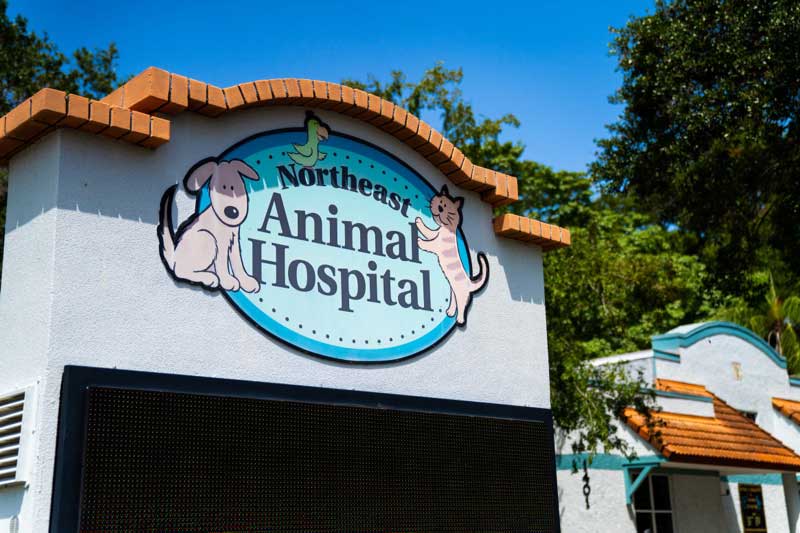 How We Are Different
To us, devotion to pets—and their people—means going above and beyond what you expect an animal hospital to be. It's the "above and beyond" that sets us apart. Here are a few of the ways:
Advanced Medicine
Northeast Animal Hospital is home to a progressive practice that offers multiple veterinary services under one roof. We offer a variety of caring medical services that range from corrective to preventive. Our St. Petersburg veterinarian hospital includes a treatment area, surgery room, laboratory, pharmacy, and kennel. It is equipped with cutting-edge technologies, including laser surgery, cold laser therapy, and videoscopy. With these advanced tools, we can care for your pet with the very best.
Cater to Cats
Our devotion extends further with special treatment to feline companions: We "Cater to Cats!" In this accommodation, cats who visit our hospital enjoy a dedicated entrance, waiting area, and exam room. (No dogs allowed!) That's the way we would want to be treated if we were cats!
Pet Portal
In addition, our online Pet Portal option puts your pet's medical history at your fingertips. You can view upcoming appointments, receive reminders, request medications, get alerts to help you manage doses, and more. This is another way we go above and beyond to provide the best for you and your pet.
Our Second Location
Our services at Downtown St. Pete Vet Clinic include: routine wellness, preventive care, and light dentistry!
We are proud of our pet-friendly city! You'll find several dog-friendly establishments in the area of Northeast Animal Hospital. The Crescent Lake Dog Park is one block west, at the south end of Crescent Lake. In the mood for food? Two blocks south is The Blend Coffee & Wine bar—their 4th Street North location. Flippers Pizzeria is four blocks south, and Three Birds Tavern is one block north. And who can resist St. Pete favorite Trip's Diner on 9th Street North?