Red Tide: Red Alert for Dogs!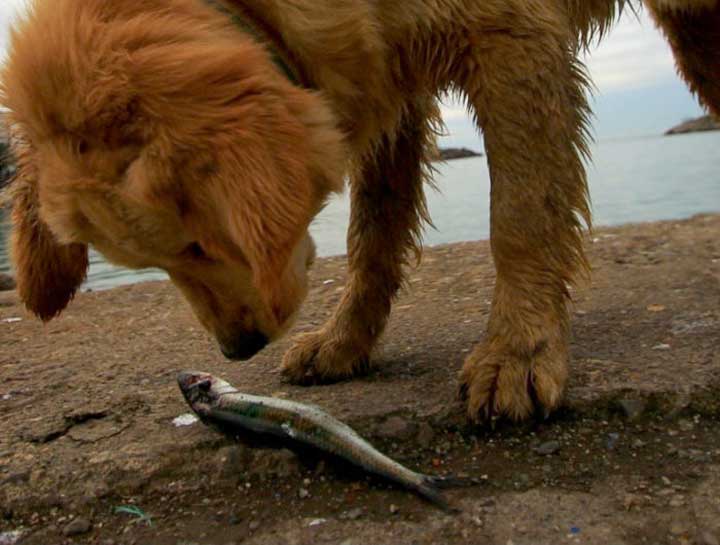 August 1, 2021
ON THIS PAGE:
If you haven't personally seen or smelled it, then no doubt you've likely heard of it: Red tide.
While red tide is nothing new (according to Mote Marine Laboratory and Aquarium, "red tides were documented in the southern Gulf of Mexico as far back as the 1700s and along Florida's Gulf coast in the 1840s. Fish-kills near Tampa Bay were even mentioned in the records of Spanish explorers in the 1500s."), we are seeing its effects like never before. St. Petersburg has become the state's epicenter for red tide, according to the Tampa Bay Times.
Why so much red tide this year?
Many suspect this year's overabundance of red tide is due to the 215 million gallons of nitrogen-rich wastewater that was pumped into the bay from the site of an old phosphate mine and fertilizer plant in Manatee County earlier this year, as algae feed on phosphorus and nitrogen. Then came Tropical Storm Elsa, pushing red tide and dead sea life into St. Petersburg. Whatever the cause, the effect is impossible to escape.
On Friday, July 9th, cleaning crews in St. Petersburg collected 15 tons of dead fish during 10 days of clean up, with 9 tons of those fish having been picked up in just 24 hours. By Monday, more than 110 tons of dead sea life had been collected in St. Petersburg alone. Then Wednesday, that number jumped to nearly 700 tons collected around the Bay area. Those numbers are likely to be outdated by the time this blog is published.
On the Thursday before that announcement, one clean-up crew pointed out to us a 5-foot tarpon that floated just below the seawall where we stood in Northshore Park. Further south, the Vinoy Basin—where just a couple weeks earlier we had seen half-a-dozen baby sharks swimming—was full of rotting fish and swarming flies.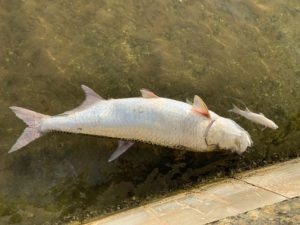 And it's not just St. Pete beaches along the bay and gulf that are affected. Beaches up and down the Gulf Coast were found to have medium to high levels of red tide and dead sea life.
Why is red tide so dangerous?
Red tide is caused by the Karenia Brevis organism that produces neurogenic toxins known as brevetoxins. When these organisms bloom out of control, we experience a resulting "red tide" of algae. Death follows in its wake as the toxins affect the central nervous system of fish, paralyzing them and rendering them unable to swim and breathe. It also affects sea turtles, shellfish, marine mammals, and other sea life, including sea birds.
These toxins can also become airborne, affecting the respiratory systems of humans and dogs. At Northeast Animal Hospital and Downtown St. Pete Vet Clinic we're having clients report their dogs' red, watery eyes and noses draining clear fluid after being around red tide.
While humans may experience some skin irritation from swimming in waters affected by red tide, dogs may suffer much worse from exposure. So should they still be going on walks, playing in the yards of homes built by the water, or even swimming in these affected waters?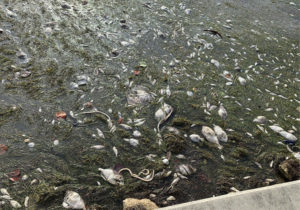 Dogs have a penchant for things that stink, so the most concerning issue with dogs is ingestion of the red tide algae, whether it be from eating dead fish and shellfish, or even from licking their wet coats after swimming. The toxins become more concentrated in shellfish, so they are of particular concern.
What can I do to keep my dog safe?
Both the Florida Fish and Wildlife Conservation Commission (FWC) and Mote advise bringing outdoor pets inside during a bloom of red tide to prevent respiratory irritation if you live near the beach. If you visit the beach with your dog, don't allow them near dead fish. Playing with, or eating, dead fish greatly increases the chance that they may get sick.
Wash your dog as soon as possible if they go swimming, as most dogs will lick their fur afterward, thus consuming any toxins on their coat. Keep in mind that even walking along the shore poses a risk, since pets can still come into contact with sea foam—in which red tide can be present.
Red tide exposure can result in neurological and digestive symptoms that include tremors, seizures, stumbling, paralysis, vomiting, diarrhea, and drooling. Your dog may also experience low heart rate and low blood pressure. Symptoms can develop within 30 minutes to one hour after exposure and must be treated quickly.
Severe cases can be fatal, so make sure your veterinarian has all the facts. Many of these symptoms are common in countless other ailments too, so if your dog has had exposure to water or fish affected by red tide, it is vital to let the doctor know immediately.
Red Tide Safety Tips:
Bring outdoor pets inside during a bloom to prevent respiratory irritation if you live near the beach.
Don't allow dogs near dead fish.
Avoid contact with sea foam, in which red tide can be present.
Wash your dog as soon as possible if they go swimming, as most will lick their coat after swimming, consuming any toxins on their fur.
If you live near the water, don't let your dog outside unsupervised.
Consuming red tide-affected sea life or water can cause severe illness. Seek medical treatment immediately and let your vet know of the exposure.
Red Tide Facts
Karenia Brevis is a type of phytoplankton and is always present in our oceans, usually in small numbers.
Tremendous overgrowth of these organisms gives the water a reddish hue, thus the name, "red tide."
Karenia Brevis is easily broken up into smaller pieces by waves and surf, releasing chemicals into the air.
Using a HEPA filter can improve indoor air quality and help with the odor and lung irritation red tide brings.
Between November 2009 and January 2010, at least 12 coyotes died in Texas because of illness suspected to be related to red tide. The resulting findings confirmed that at least some of them had indeed died from consuming dead fish, becoming the first confirmed report of terrestrial wildlife fatalities related to red tide.